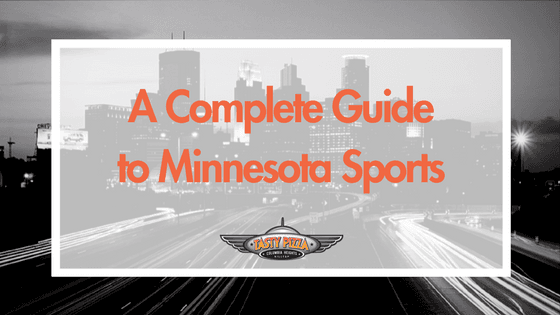 Sitting atop Lake Superior, and well-known for its own lakes and the cultural landmarks of its "Twin Cities" Minneapolis and Saint Paul, let's not forget the many sporting attractions Minnesota has to offer.
In fact, this Midwestern state ranks among the few states that can boast a professional team representing every major sport. Not only that, but sports fanatics in Minnesota are treated to a year-long reel of exciting games.

Minnesota Lynx (WNBA), St. Paul Saints and the Minnesota Twins (MLB) take the spotlight in the summer. The legendary Minnesota Vikings (NFL) take center stage for the Autumn and Winter months while the Minnesota Wild (NHL) and the Timberwolves (NBA) straddle both Winter and Summer with their playoffs.
World-Class Arenas
While it's fun to kick back with Tasty Pizza, beer and friends to watch these seasonal fixtures, it's a whole other experience to savor the live action. St. Paul and Minneapolis are home to some of America's elite sports venues:
The Twins'

Target Field is a spectacular baseball park situated in downtown Minneapolis. With panoramic views of the city skyline and a seating capacity of 39,504, you can book your seats for any game, concert or event online at their cool 3-D Online Seating Gallery.

The Wild's

Xcel Energy Center is another cool arena to blow off some steam. Named after its locally-based sponsor Xcel Energy, this multi-purpose arena located in St. Paul, Minnesota, has four separate seating sections with an overall capacity of 18,064 for its adoring fans or music revelers. Purchasing tickets to Xcel Energy Center events in St Paul, couldn't be easier: Simply take a gander at the lineup of events on their site and click on the one of your choosing.

The Vikings'

U.S. Bank Stadium is another state-of-the-art, multi-purpose facility that can host national and international events. On their lineup for the coming months are the Summer X Games and the NCAA's 2019 Final Four. With sideline-hugging seats and a striking EFTE transparent roof — the nation's largest — Vikings fans receive the royal treatment every time!
With home turf games against New Orleans, Tampa Bay, Chicago, Cincinnati, Detroit, Baltimore, Los Angeles and Green Bay, there's plenty of Vikings action to rile up the fans this Spring NFL season.
If you need kitchen fridge reminders of The Twins' hectic Summer Schedule, you can print it off here. Just a note: As with all MLB Spring Training and Summer Schedules, dates and times are subject to change.
Minnesota Lynx fans can also download their team's calendar, as can Minnesota Wild fans on ESPN.com.
Not forgetting the hungry Timberwolves, their action-packed season can be viewed on the main NBA website.
Feet Up
So mark your calendars, order in some Tasty Pizza and a six pack or two, and you're all set for Minnesota's mouth-watering 2017 Sporting Calendar. Let's Go Vikings!